What can statistics tell us about coronavirus in Wales?
Here we update some of the key weekly and monthly data for measuring the pandemic and also assess some of the key Covid-19 indicators over the past two years.
We are now at a "Covid stable" stage of the pandemic but a watch is still being kept on infection estimates, hospitalisations and deaths, although figures are expected to remain relatively low over the summer.
How many people are in hospital with coronavirus?
We saw record numbers of Covid cases in the community in the days after Christmas, but this did not translate into a significant rise in hospital cases.
The number of patients testing positive for Covid, which had been steadily falling since mid-April, has been rising over the last 12 days.
Infections in the community have been estimated to be rising over the last two weeks.
The number of patients testing positive for Covid in hospital beds in Wales has averaged 405 a day over the past week – a 78% rise on a week ago.
These numbers are the highest since early May and are reflecting a recent rise in community infections.
But they have been mostly "incidental" Covid patients.
Only 48 (12%) of confirmed Covid patients in acute beds on 27 June were being primarily treated for the virus, with 360 patients in hospital being treated for other conditions.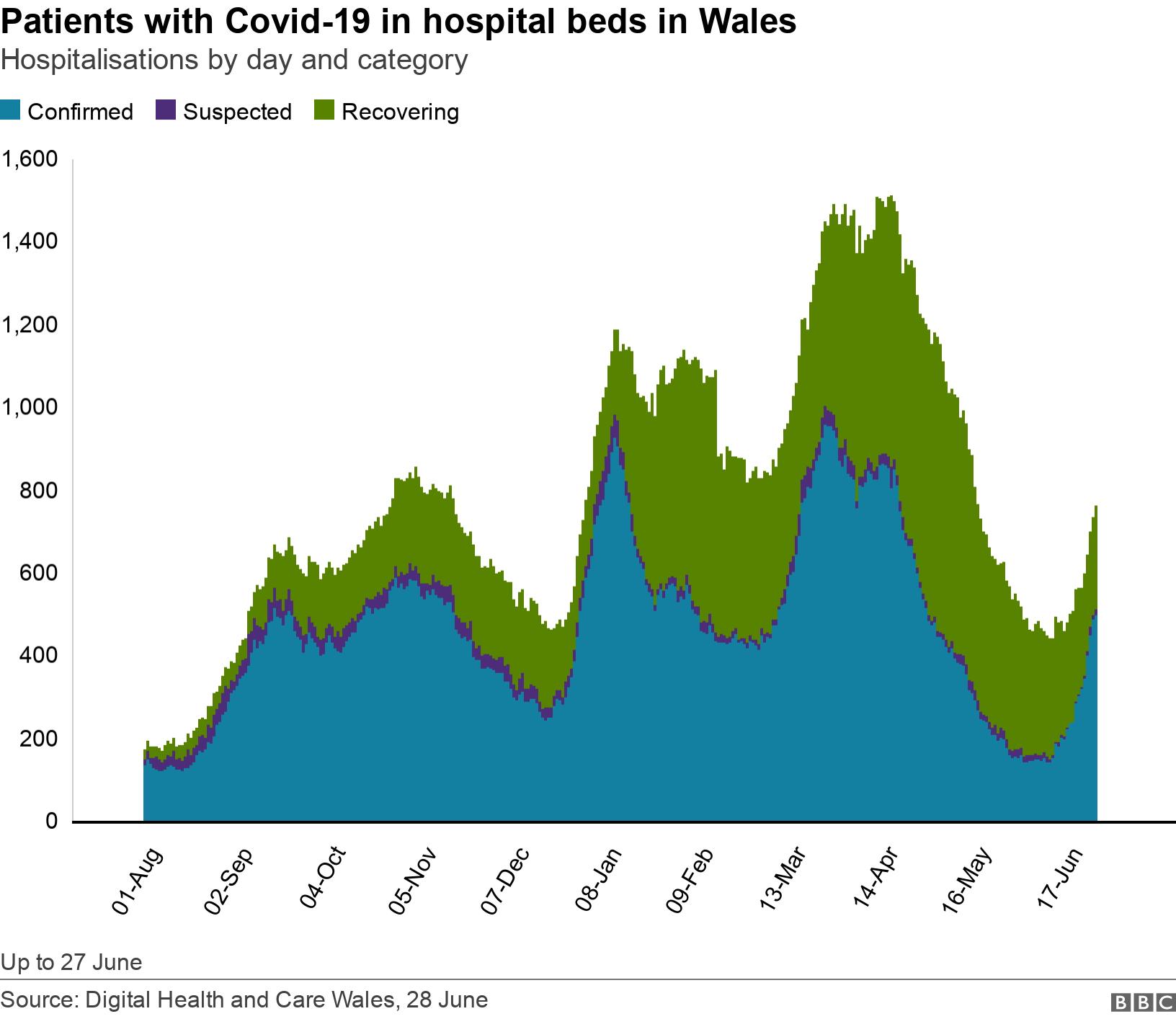 When we include patients with suspected Covid and those recovering from Covid, there were 653 people, on average, in hospital beds in Wales over the past week – a 31% rise. That's 7.3% of all hospital patients.
There were 246 patients recovering, so they no longer test positive for Covid but were either still rehabilitating, waiting for discharge or waiting for a care package or accommodation to become available.
This can add to pressures on hospitals.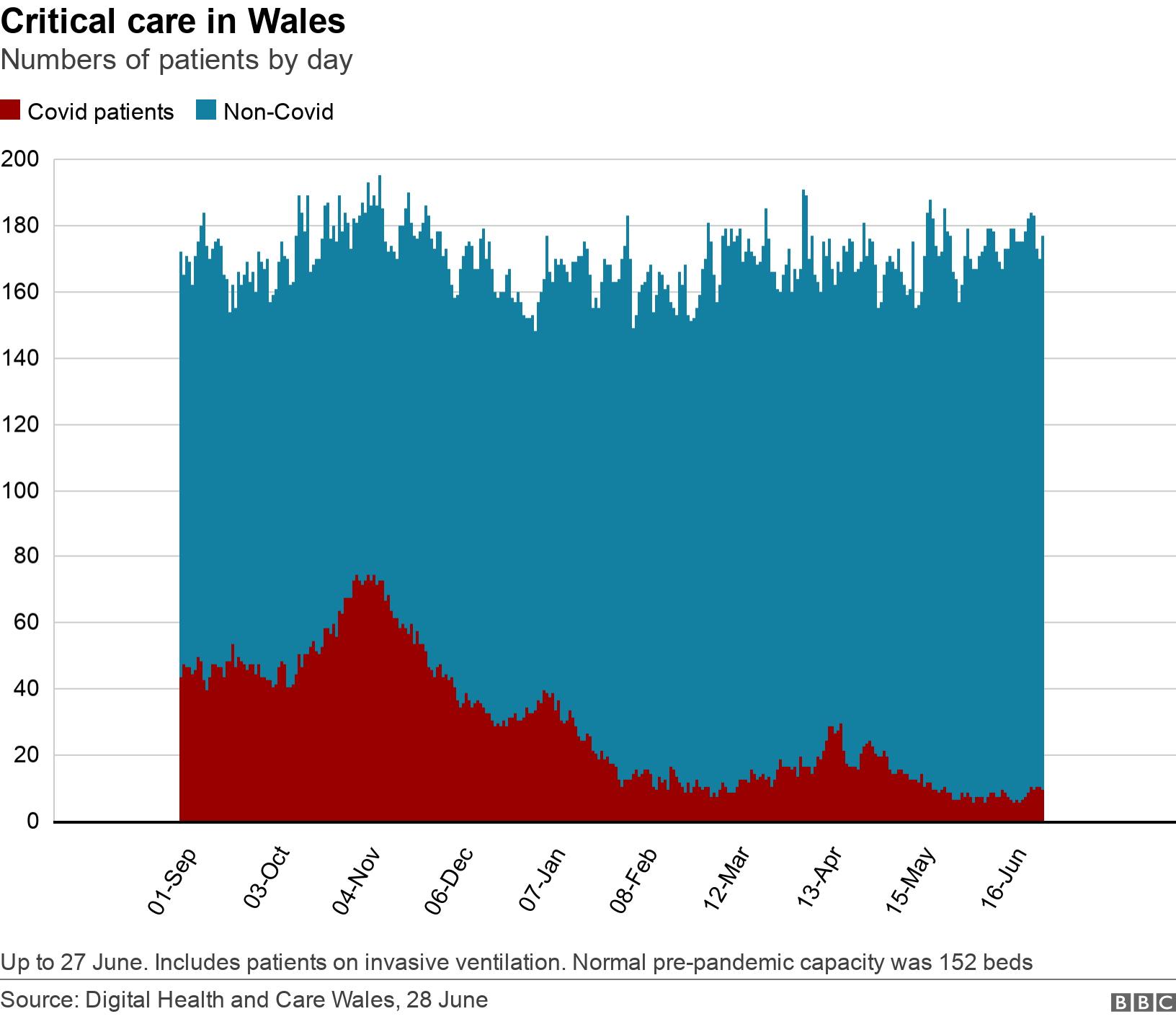 Numbers in critical care with Covid are averaging 10 a day, up from seven a week ago.
There are 17 times more non-Covid patients in critical care than patients who have Covid.
About 61% had been discharged from hospital. The study also showed patients admitted in the past year who survived are spending less time in critical care than earlier in the pandemic.
The average age is 55, almost two-thirds are men and they are more likely to be overweight. Almost half are from more deprived parts of Wales and above average proportions were black or Asian. Just under a third were aged under 50.
More than 81% were primarily in critical care to be treated for Covid.
The study, at a UK level, showed 61% of those Covid patients in critical care were unvaccinated in December.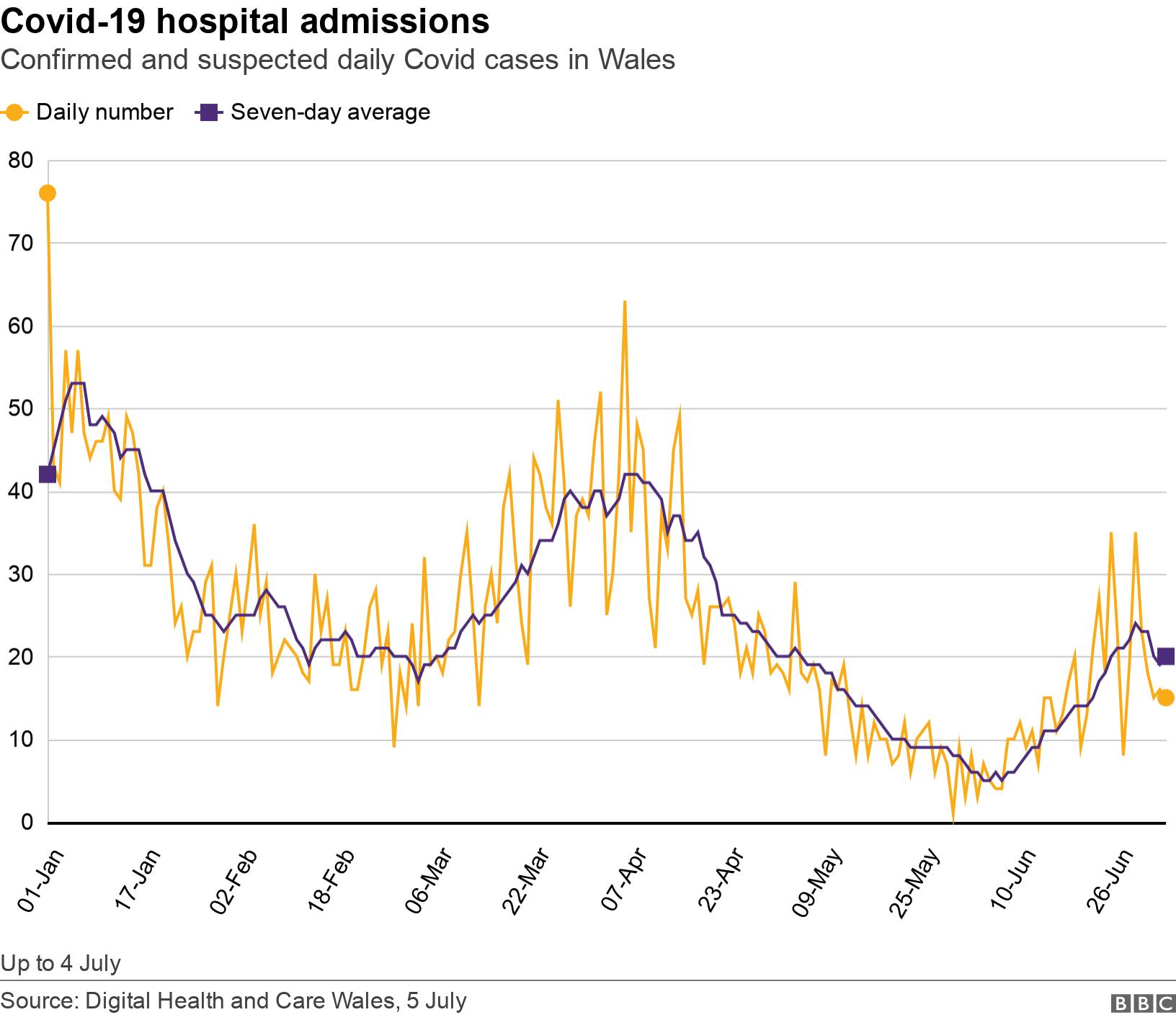 Numbers of Covid admissions are averaging 21 a day, up on 14 the week before and the highest since early May.
These will reflect the higher numbers of community infections we are seeing.
But Covid-positive admissions only make up 1.1% of all admissions.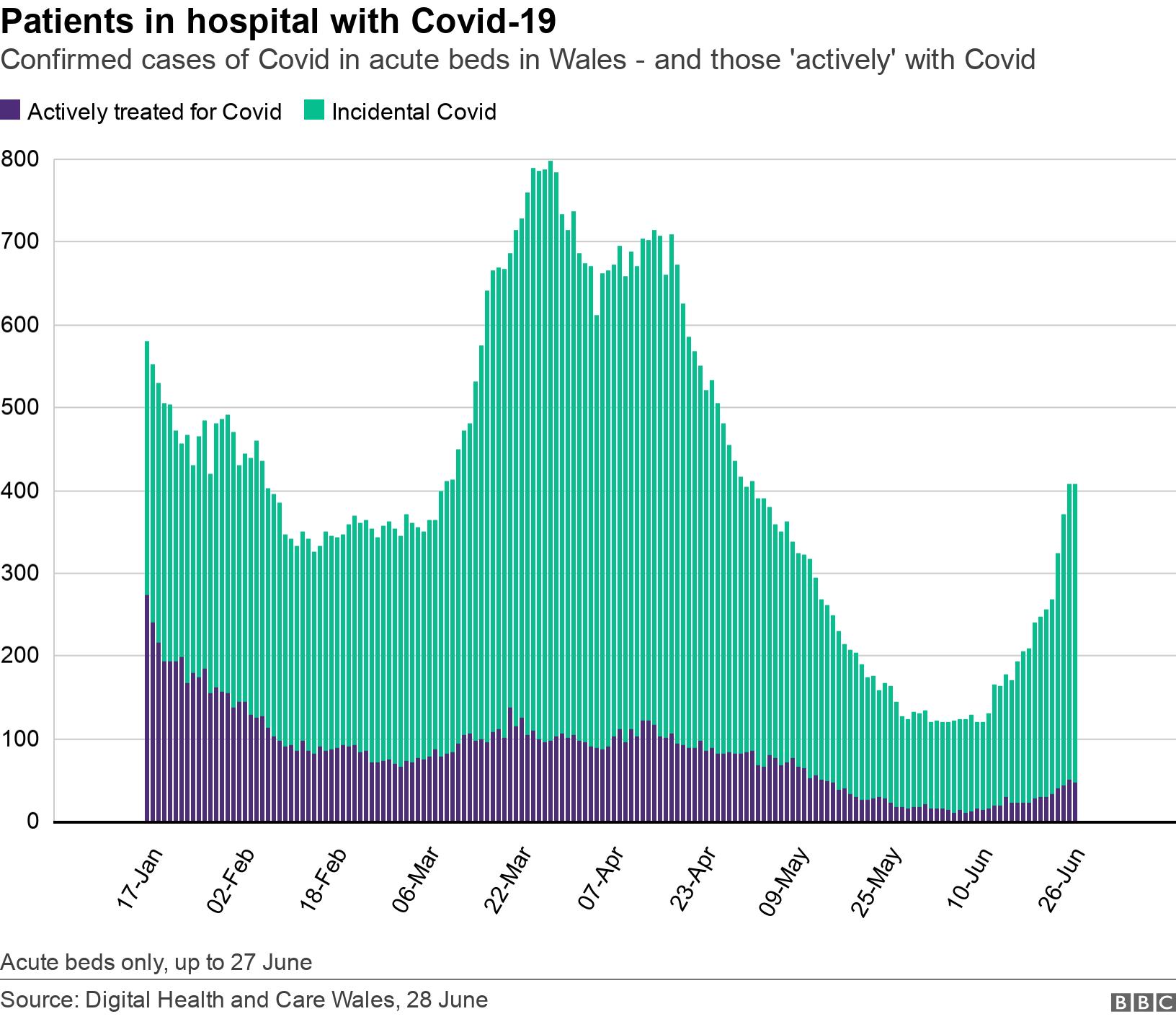 How many Covid hospital cases are directly due to the virus?
On average, 88% of patients in hospital with confirmed Covid in the past week were being treated for other conditions.
Only 12% of patients in acute hospital beds with Covid were being primarily or "actively" treated for the virus.
It does not mean these patients cannot have complications because of Covid, and it can still present challenges for patient management.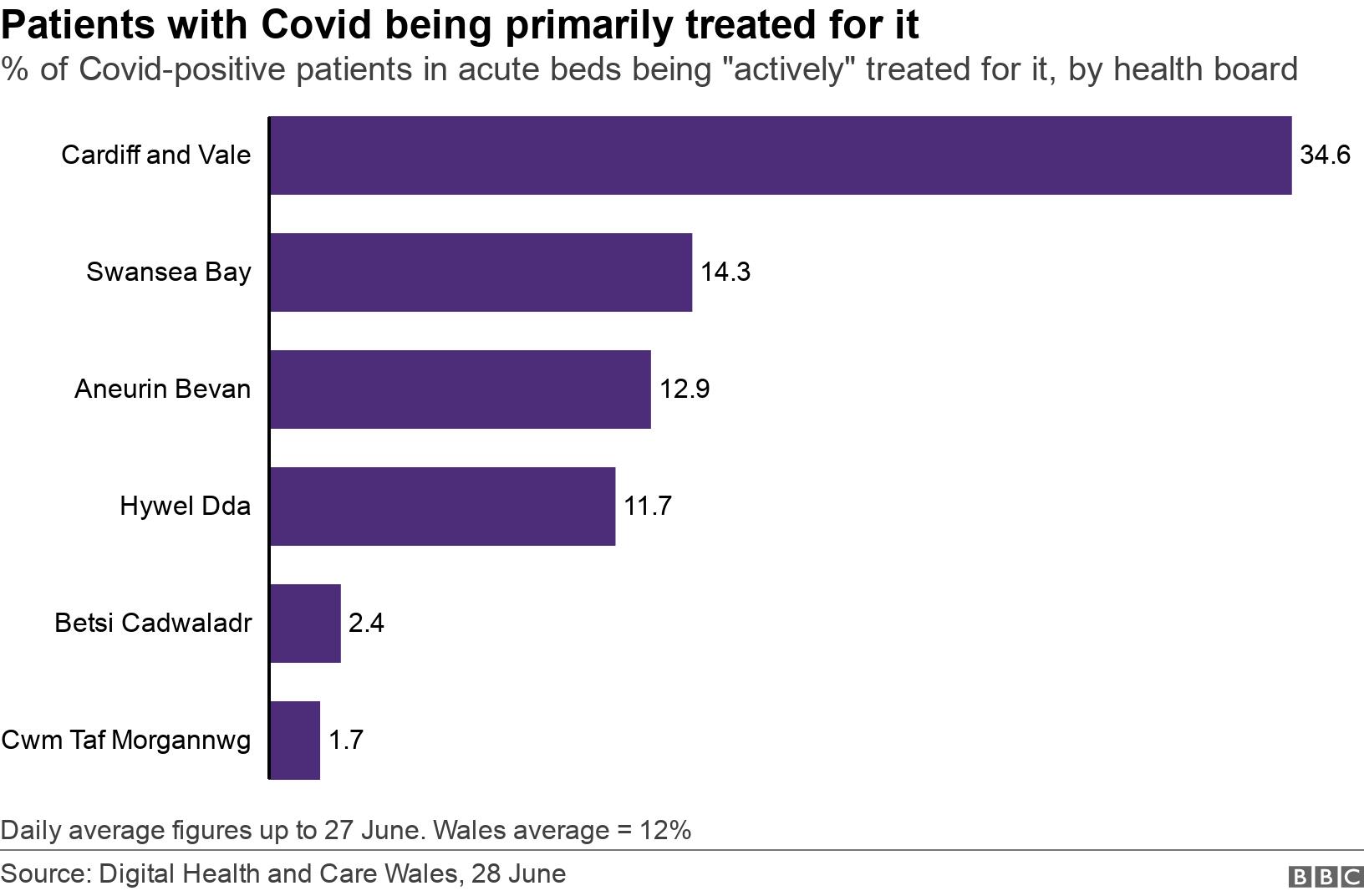 Broken down by health board, Betsi Cadwaladr health board had only 2% patients being treated "actively" for Covid for the past week.
Even in Cardiff and Vale, at the other end of the range, nearly two-thirds were "incidental" Covid patients.
There has been a higher proportion of patients with Covid being treated actively for the virus in critical care – and that was six out of eight patients on 27 June.
Digital Health and Care Wales indicated the data was still being worked on and it was currently a "high level estimate" with no standard definition for "actively being treated for Covid", meaning there were some differences between health boards in how they arrived at the figure.
Patients who are asymptomatic have not been retested during their stay since late March.
The figures on "incidental" Covid cases have only been published in recent months and reflect the fact there have been a lot of people being infected out in the community, while in the latest week the number of hospital-acquired Covid infections has more than doubled with 102 "probable" and "definite" Covid infections caught in hospital.
There were 254 positive tests for Covid in hospitals in the week ending 19 June – and 40% were "probably" or "definitely" hospital-acquired, according to latest figures from Public Health Wales.
This is a jump from the previous week, when 33% were infections caught in hospital.
There have been more than 13,270 hospital-acquired infections since the start of the pandemic.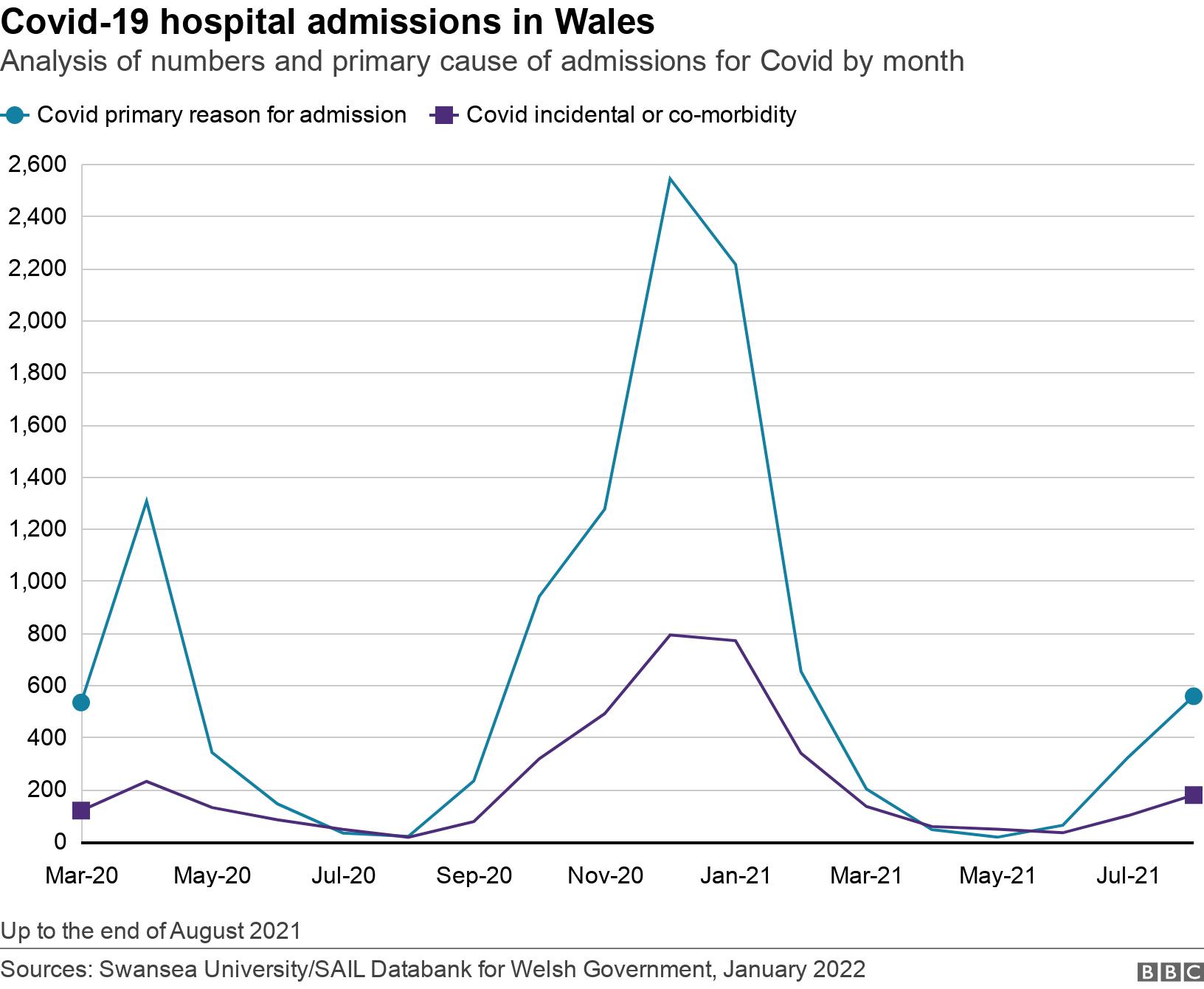 Separate analysis of Covid admissions to Welsh hospitals between the start of the pandemic and August 2021 in Wales estimated 71.2% were directly due to Covid.
In cases where Covid was not the primary cause, trauma injuries made up nearly one in five cases, with Welsh government scientists saying acute illnesses were known to increase the propensity to fall, which on top of reduced physical activity and consequent muscle loss due to shielding and self-isolation issues, "would increase the likelihood of hip fractures".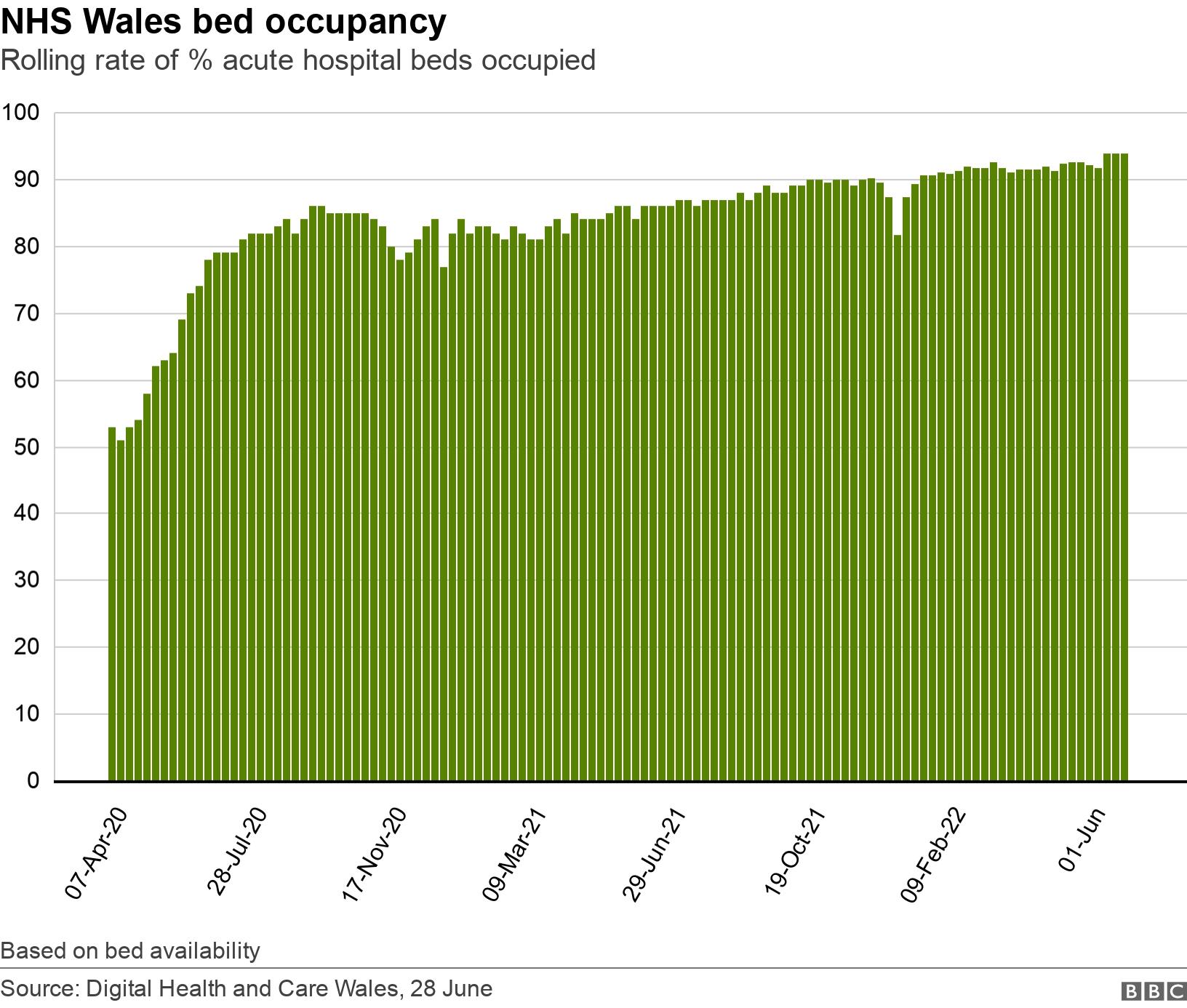 Pressure points on the NHS
An indication of pressure on the NHS is overall bed occupancy in acute hospitals, which hit a record 94% in the week ending 22 June.
This had reached 93.8% by 28 June.
Another measure is NHS staff absence.
A total of 1% of staff were absent due to Covid-related sickness in the week to 20 June. Another 0.5% of staff were having to self-isolate, according to the weekly Welsh government figures. This does not include NHS Wales staff absent for other reasons.
Total absence stands at 6% and compares to a usual pre-pandemic figure of about 5%.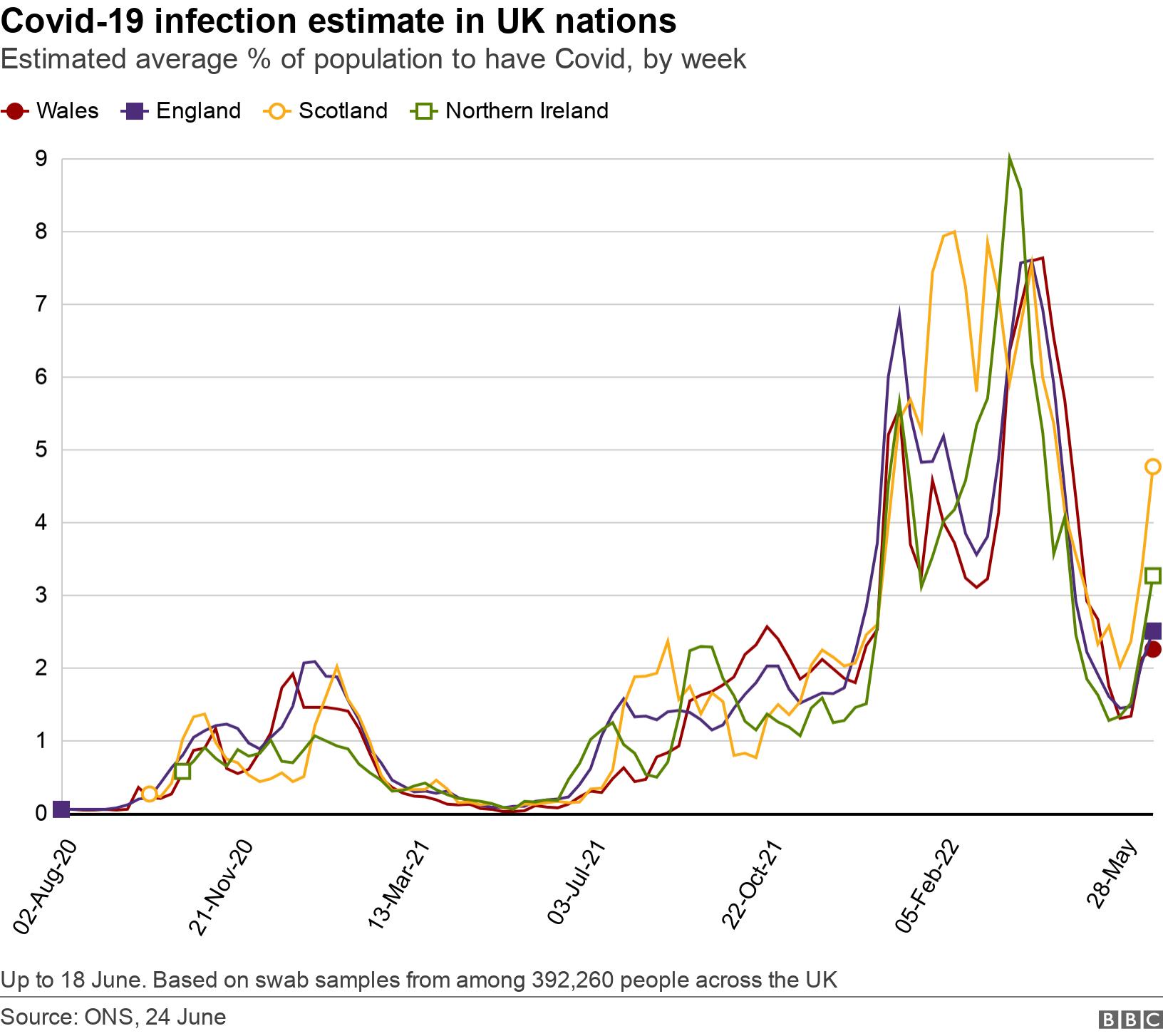 Infections rising again in Wales
One in 45 people are estimated to have had Covid in the latest week, says the Office for National Statistics (ONS).
An estimated 68,500 people in Wales had Covid in the week ending 18 June.
That equates to 2.25% of the population and the trend is now rising for two successive weeks, although only slightly.
It compares to the previous week's estimate, which was 64,800 .
Since the summer of 2020, the ONS has organised a weekly swab survey involving thousands of households across Wales.
It has become the most important tool to measure the level of infections, with the end of mass testing at the end of March.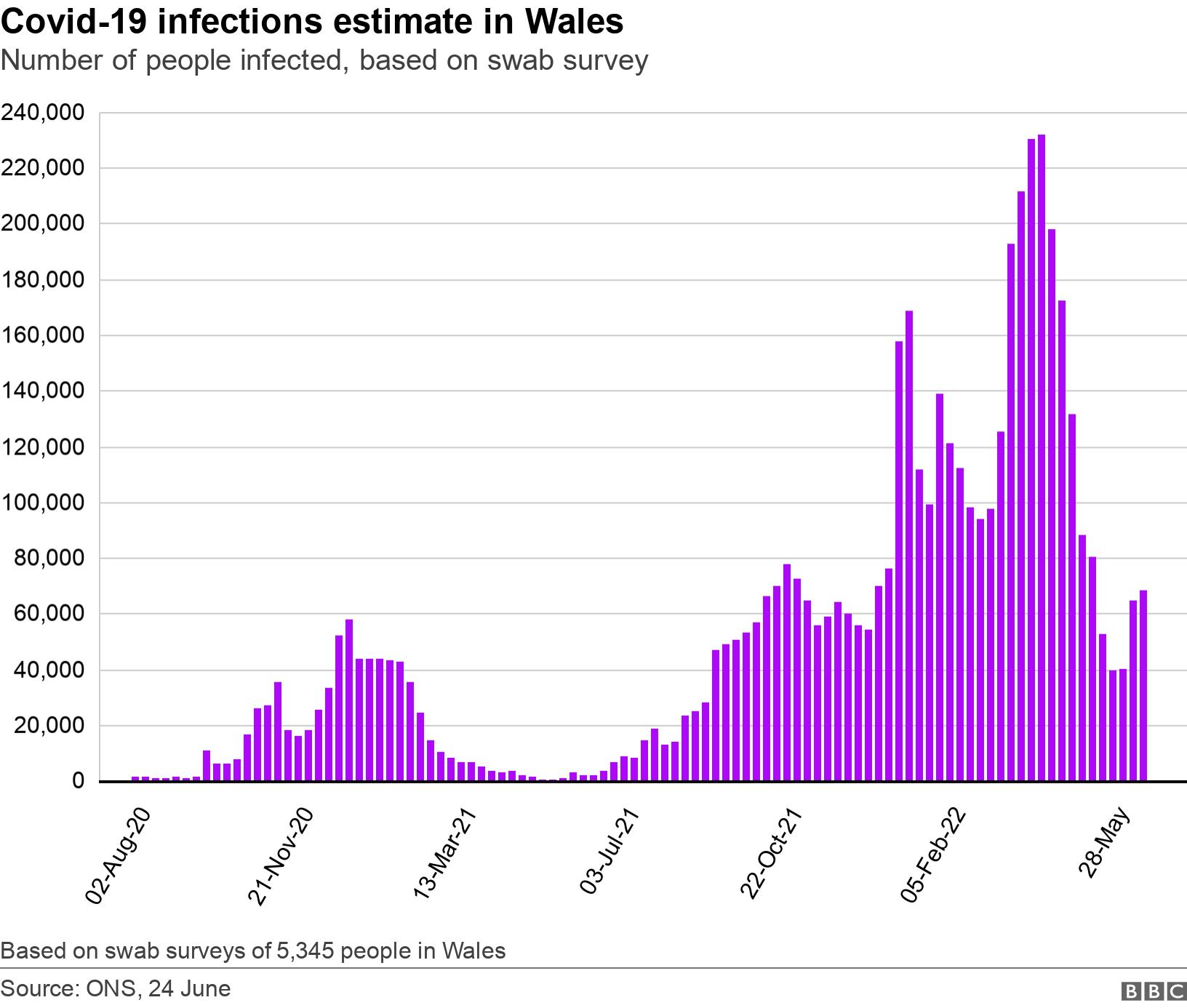 Infections are estimated to be lower in Wales than for the other UK nations and all regions of England, apart from the north-east.
They are estimated to involve one in 40 people in England, one in 20 in Scotland and one in 30 in Northern Ireland.
Broken down, daily estimates of infection are highest in people in their mid-30s and lowest in older people in Wales.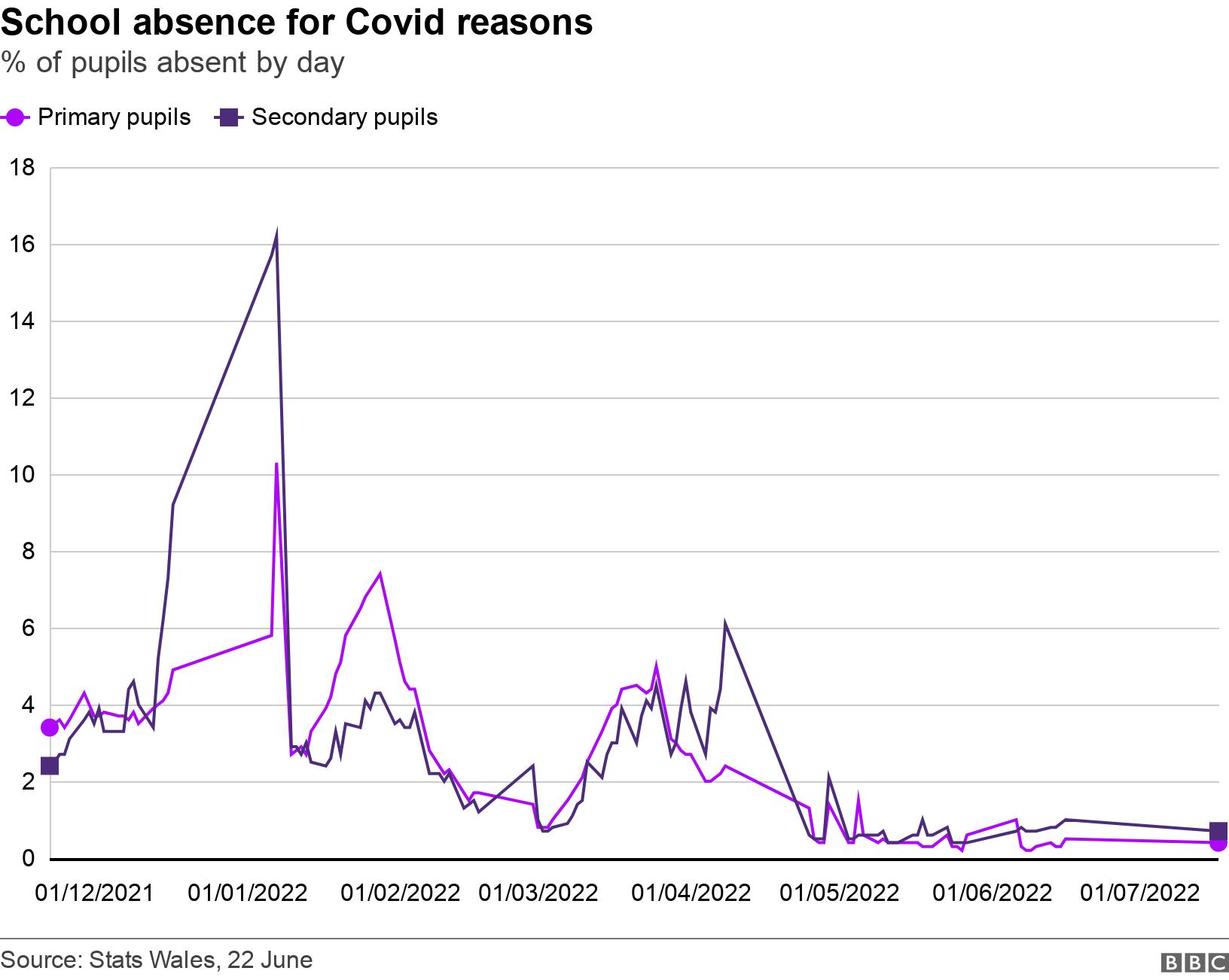 School absences for Covid-related reasons have have risen slightly on the week but are still lower than before the Easter holidays – an average of 0.4% primary age children, compared to 2.2% in early April and are down from 4.2% to 0.9% among secondary pupils.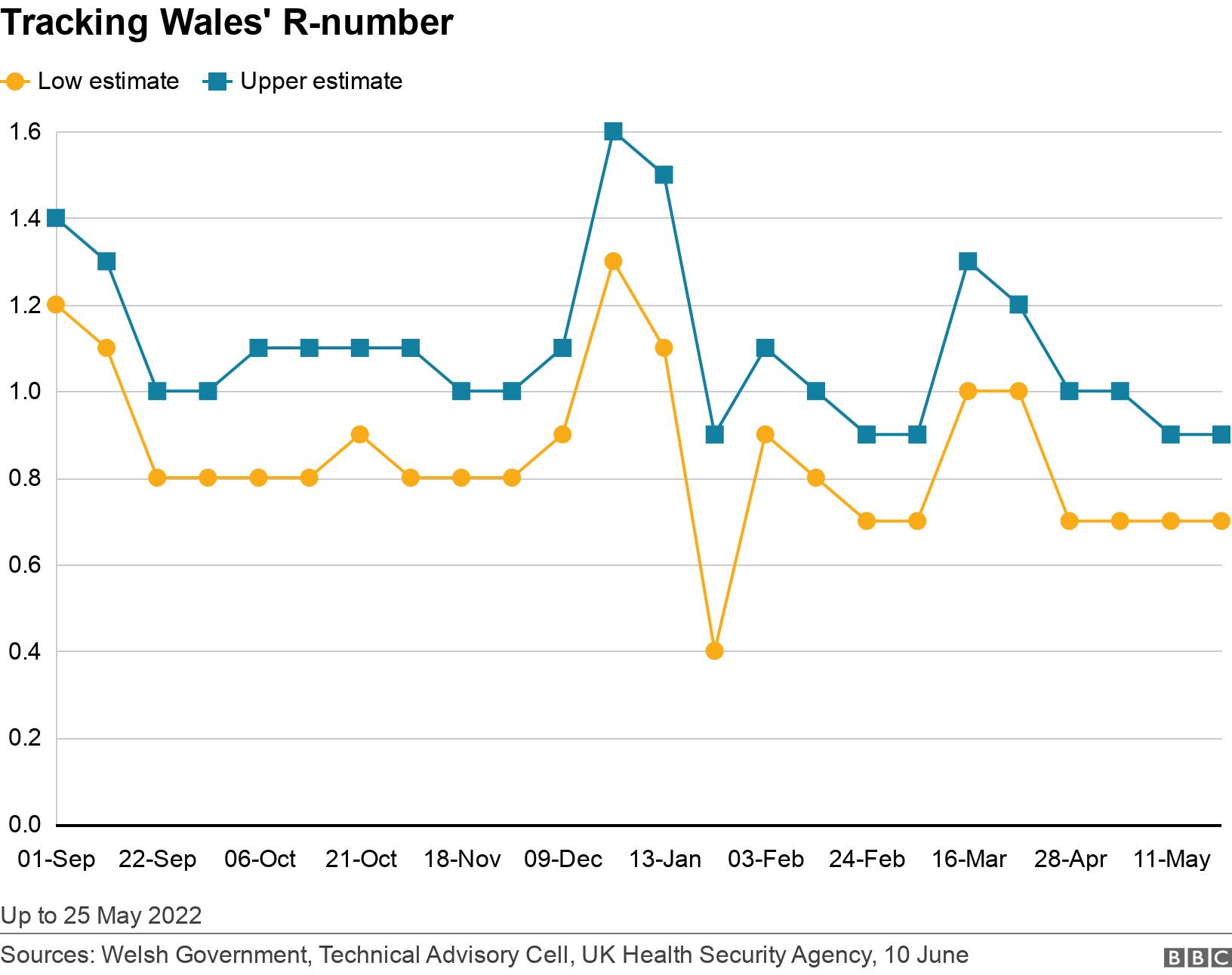 R-number remains below 1
Meanwhile, the R-number – reproduction number – for Wales remains below 1, between 0.7 and 0.9, up to 27 May.
This is a calculation which looks at various factors to work out a transmission rate for Covid. It suggests that for every 10 people with Covid, between another seven to nine people would be infected.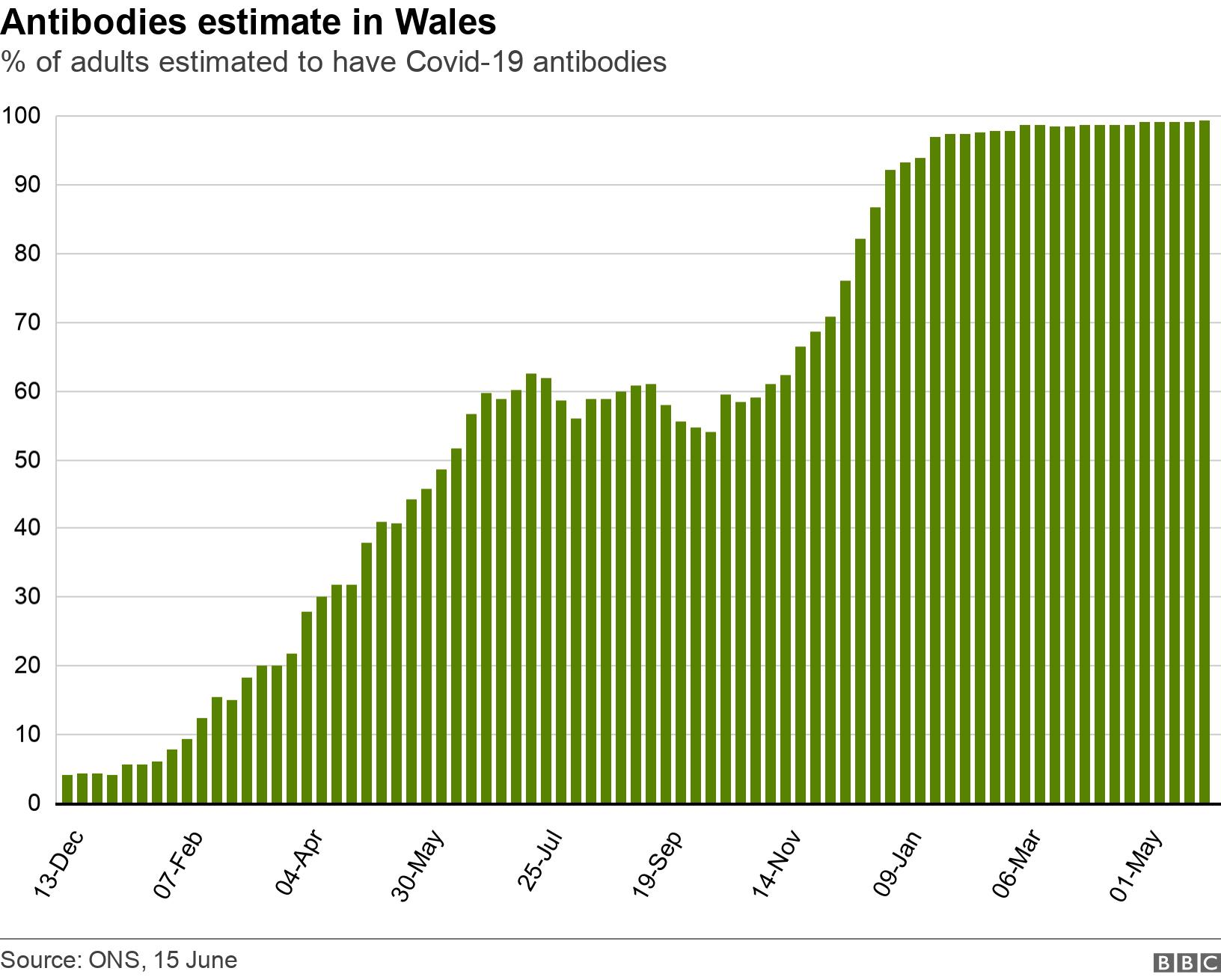 What do other indicators tell us?
The latest infection survey from the Office for National Statistics suggests 99.3% of adults in Wales have some protection from antibodies – through vaccination or immunity following infection.
All UK nations are close to or at 99%.
The estimate is 98.9% of 16 to 24-year-olds in Wales would have tested positive for antibodies, although it falls to 98.3% for those aged over 80. It is as high as 99.6% for people aged 35 to 59.
The ONS is not providing a latest estimate for children aged eight to 15 in Wales although it is 94.6% for Britain as a whole.
As part of its weekly swab survey, involving many thousands of people across the UK, some participants also have their level of antibodies checked in a blood test and are also asked a series of other questions towards fact-finding about Covid.
The rate at which GPs are consulted about Covid-19 is also another indicator, which peaked in the first week of January 2022 at 98 consultations per 100,000 and has now fallen back to around two per 100,000.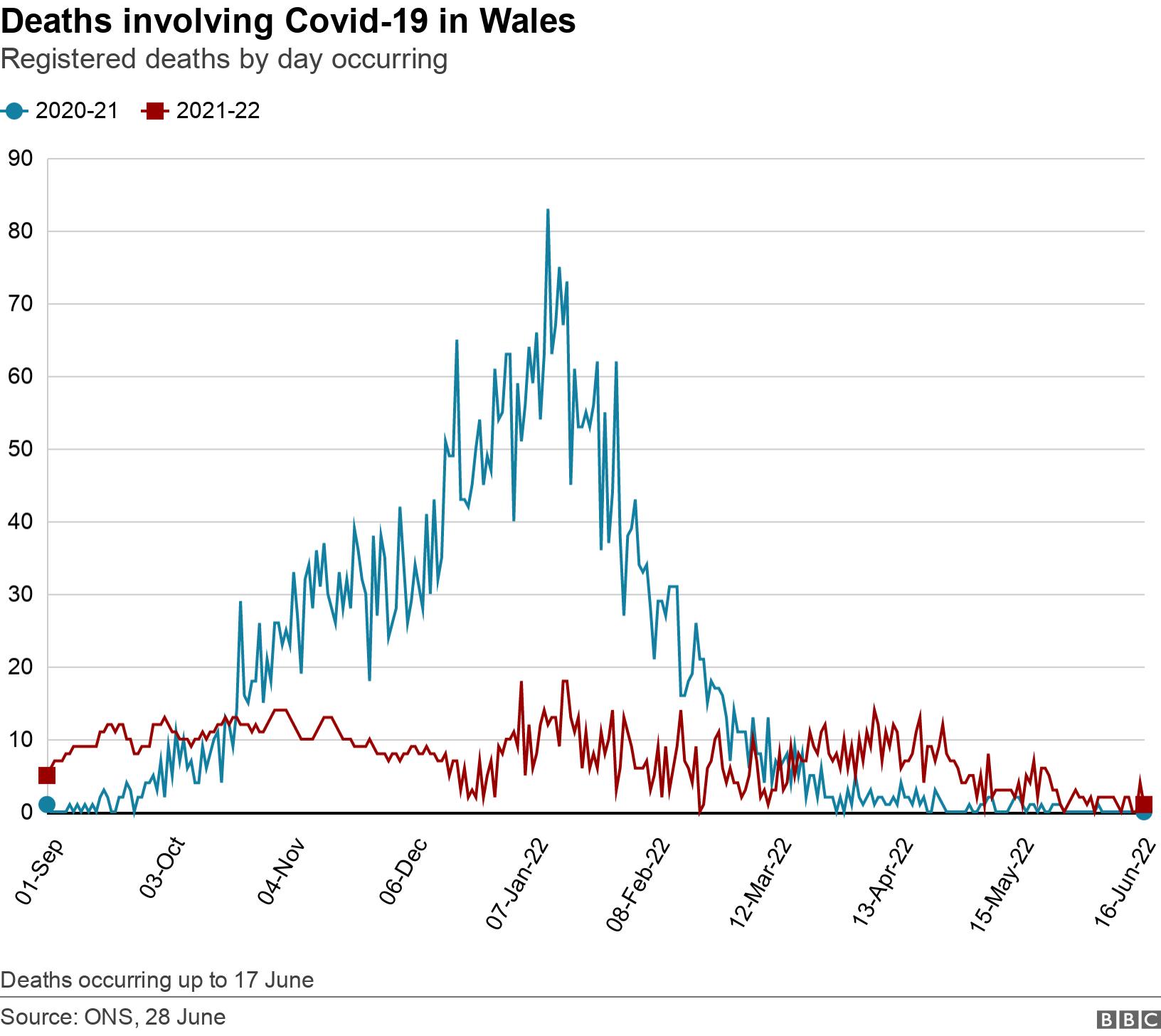 How many people have died from Covid-19?
The number of people who have died when Covid was a contributory factor has reached 10,405 in Wales.
In the most recent week, up to 17 June, 16 people in Wales had a death registered which involved Covid-19 and saw it included as a contributory factor on their death certificate, according to the ONS.
That compared with 12 registered in the previous week.
There were four deaths in the Betsi Cadwaladr health board area.
There were no deaths involving Covid in 10 Welsh counties: Anglesey, Blaenau Gwent, Cardiff, Carmarthenshire, Flintshire, Merthyr Tydfil, Newport, Swansea, Torfaen and Wrexham.
When counted by day occurring – not day registered – there were nine deaths involving Covid in the last week in Wales registered so far, compared to 11 in the previous week.
Up to 17 June, a total of 10,405 deaths involving Covid have occurred during the pandemic in Wales; 10,378 deaths involving Covid have been registered.
Deaths involving Covid are running roughly the same as at the same point in 2021, although the total number of deaths involving Covid so far in 2022 is about 40% of the year-to-date total we had seen by 10 June 2021.
The Omicron wave from December 2021 brought a peak in deaths of 20 on 15 January 2022, the same level as the peaks in deaths in September and October.
Up to the end of May, we know 8,806 deaths were due to Covid, when it was the underlying cause. We know about 65% of deaths involving Covid in the latest week across England and Wales were due to Covid.
The ONS measure includes deaths in people's homes, hospices and other settings, as well as hospitals and care homes.
Because Public Health Wales' "snapshot" measure only includes deaths within 28 days and after a positive Covid lab test, mostly in hospitals, it excludes deaths involving Covid elsewhere, including many deaths in the first wave of the pandemic, hundreds of deaths in people's own homes and where doctors suspect Covid has been a contributory factor.
Deaths by this measure will also include people who die of other conditions in hospital but just happen to have tested positive for Covid in the month before their death.
During 2021, there were 4,029 deaths involving Covid, of those registered up to now.
That includes 209 deaths in December 2021. In December 2020, there were 1,333 deaths involving Covid.
The second wave in the winter brought 83 deaths on 11 January 2021 alone – the worst single day during the pandemic in Wales.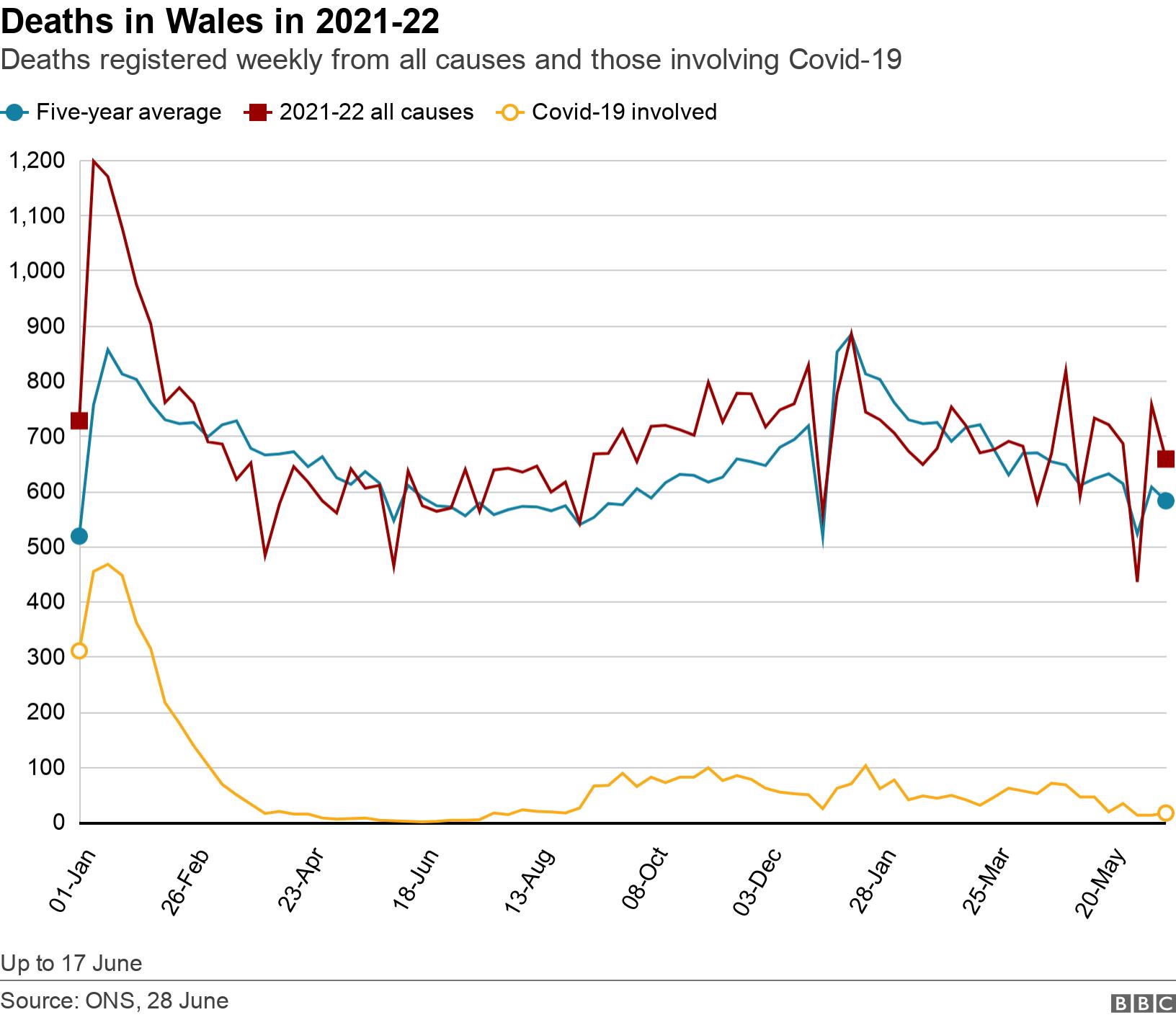 ONS also records so-called "excess deaths". This has been seen as a useful measure of the pandemic's impact because it looks at deaths from all causes overall, compared with the five-year, non-pandemic average.
So since March 2020, there have been 7,010 more deaths than we might expect to see on average.
Deaths ran above average for the last half of 2021 but have been below or the same as the five-year pre-pandemic norm for most of 2022 so far.
There were 658 deaths from all causes – 76 (13.1%) more than the average in the most recent week.
Covid accounted for 2.4% of all deaths in Wales in the latest week.
Nearly a fifth (18.8%) of all Covid deaths registered have occurred in care homes.
There were two deaths involving Covid involving a care home resident registered in the latest week.
Care Inspectorate Wales reports that deaths peaked in May 2020 and said it has been notified of 2,205 care home resident deaths with suspected or confirmed Covid.
It had been notified of one death so far in June.
The steepest rise in deaths in care homes was during the first wave of the pandemic.
Across all waves, there were 2,367 mentions of Covid anywhere on the death certificate, accounting for 17.4% of all care home resident deaths in Wales.
There were 1,046 deaths in care homes above the five-year average in the first wave (33.2% above average) but deaths were below average in the second (-1.8%) and third waves (-4.6%).
Overall, there were 756 deaths above normal levels, which is 5.9% higher.
Covid was the second leading cause of death in care homes, after dementia and Alzheimer's disease, over the first two waves.
Deaths in people's own homes have also been running at more than a third higher than average.
We can also see how deaths in the third wave have been at much lower levels than in the second wave.
How do deaths from Covid-19 compare with other causes, like flu?
Covid-19 was the sixth leading cause of death in Wales in May, after being the third leading cause in April.
Mortality analysis by the ONS showed deaths due to Covid – 100 in total over the month – accounted for 3.3% of all registered deaths. It was also 3.3% of all deaths in England in May.
Looking at when Covid was a contributory factor, there were 150 deaths involving Covid in Wales – or 5% of all deaths in May.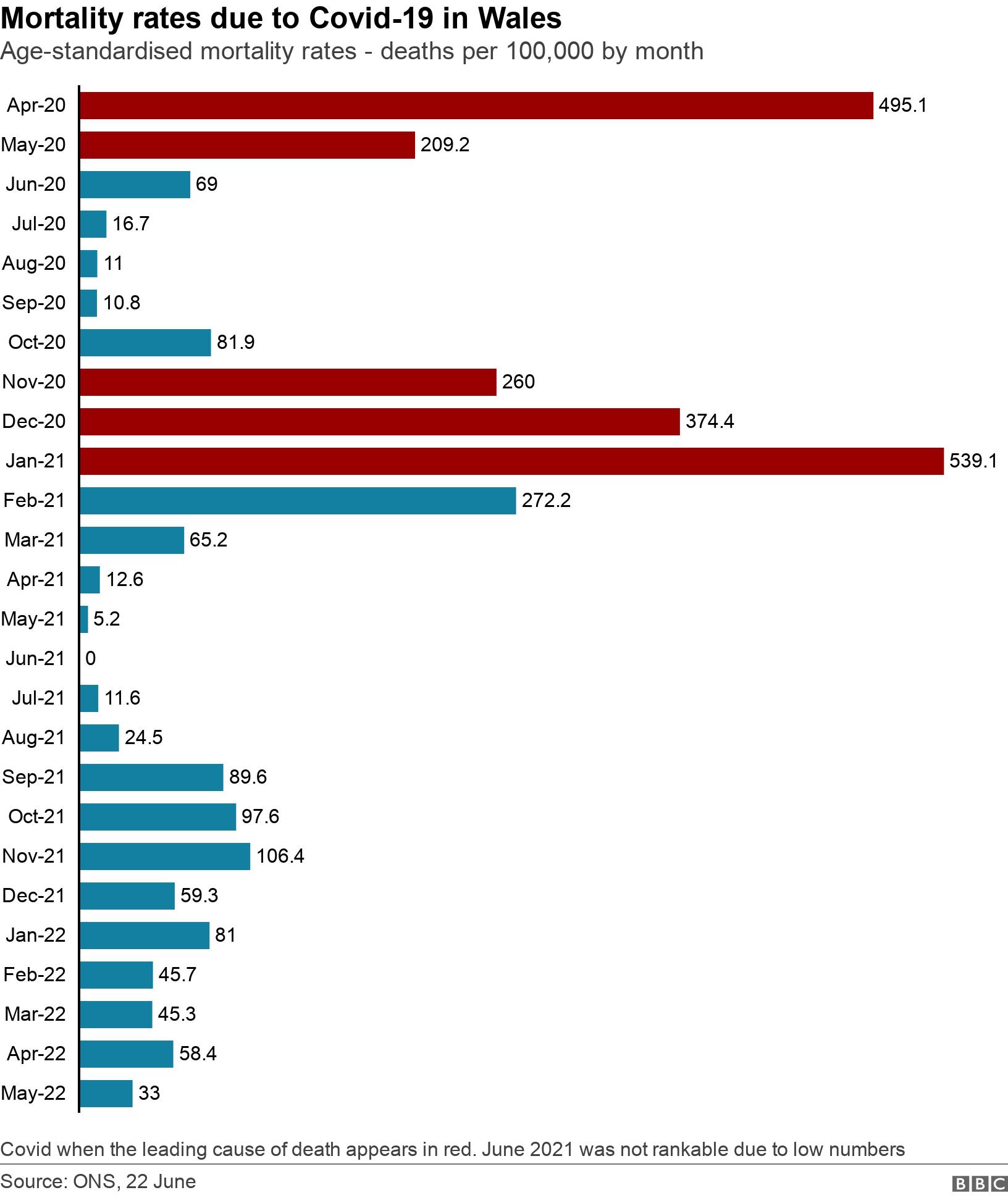 Heart disease (11% of all deaths) was the leading cause of death in May. Flu and pneumonia ranked seventh, with the mortality rate significantly lower (-44%) than normal levels.
Covid was the second leading cause of death in Wales after heart disease throughout 2021 but is now the fourth leading cause of death so far in 2022, after heart disease, dementia and chronic lower respiratory diseases.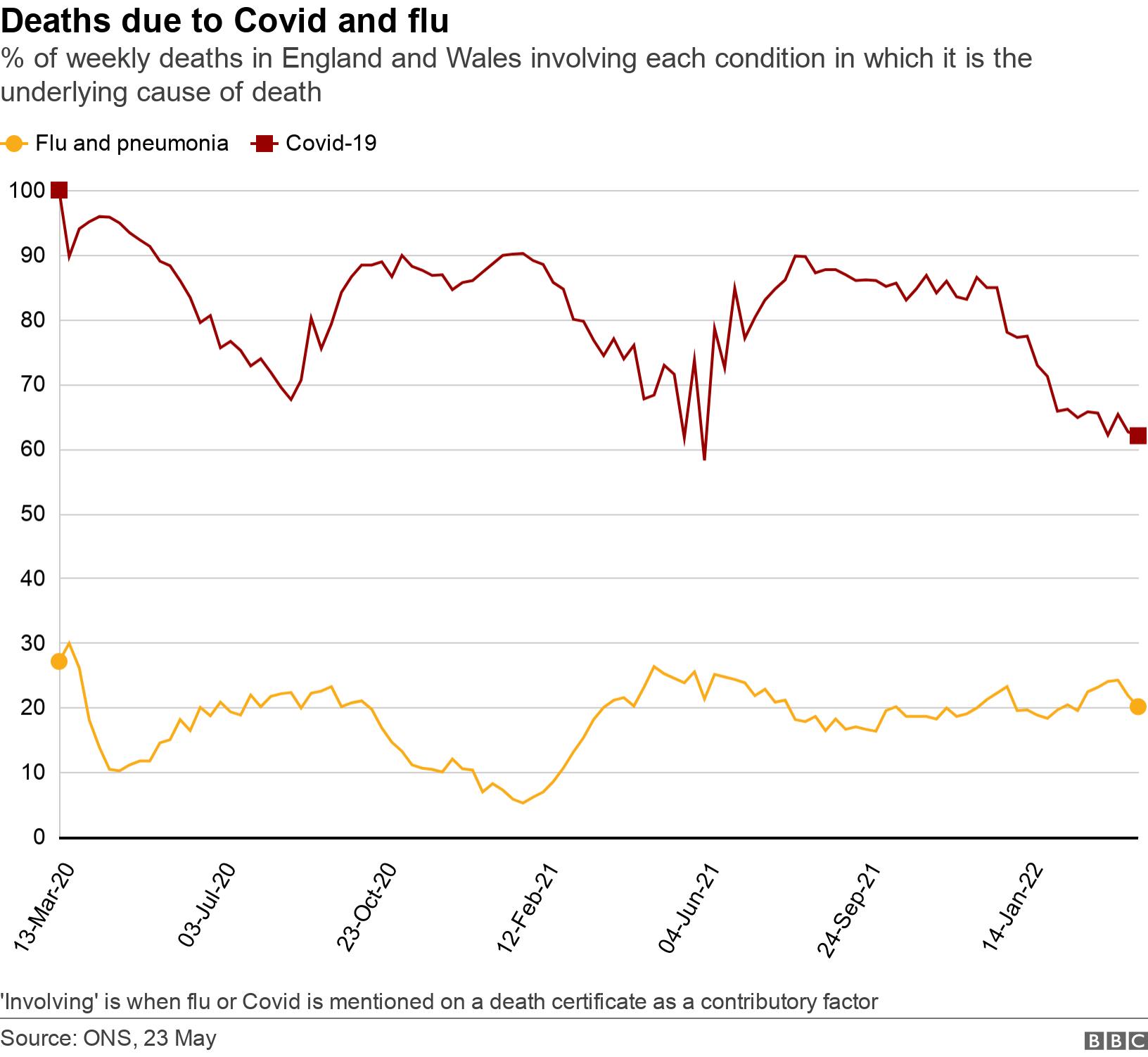 Recent analysis by ONS has also found Covid-19 has been the underlying cause of death in more than four times as many deaths as flu and pneumonia in England and Wales since the pandemic began.
There were 148,606 deaths where Covid was identified as the underlying cause of death up to the start of April 2022, compared with 35,007 deaths due to flu and pneumonia.
While the proportion of Covid deaths due to the disease reduced in early 2022, ONS found it was still higher than those due to flu and pneumonia.
The ONS, which takes into account population and age structure, found the mortality rate for deaths due to Covid in Wales in May was 33.3 deaths per 100,000 – a fall on the April figure.

Across the course of the pandemic, the age-standardised mortality rate for deaths involving Covid is slightly higher in Wales (134.8 deaths per 100,000), just ahead of England on 134.7 deaths per 100,000, with Scotland (122.7) and Northern Ireland (124.1) both lower in the 27 months to the end of May.
The age-standardised mortality rate due to Covid – with Covid the underlying cause of death – is higher in England than in Wales.
It is also higher in all English regions apart from south west, south east and east England.
When a crude mortality rate, not adjusting for the age or population profile, is used, deaths are higher in Wales.
The median age of a person to die during the pandemic has been 82, while 72% of deaths have been in the over 75s; a third child under 14 has died in recent weeks, in which Covid has been a factor.
The median age of death due to Covid in May was 85 and the last three months have been the highest we have seen since the pandemic began.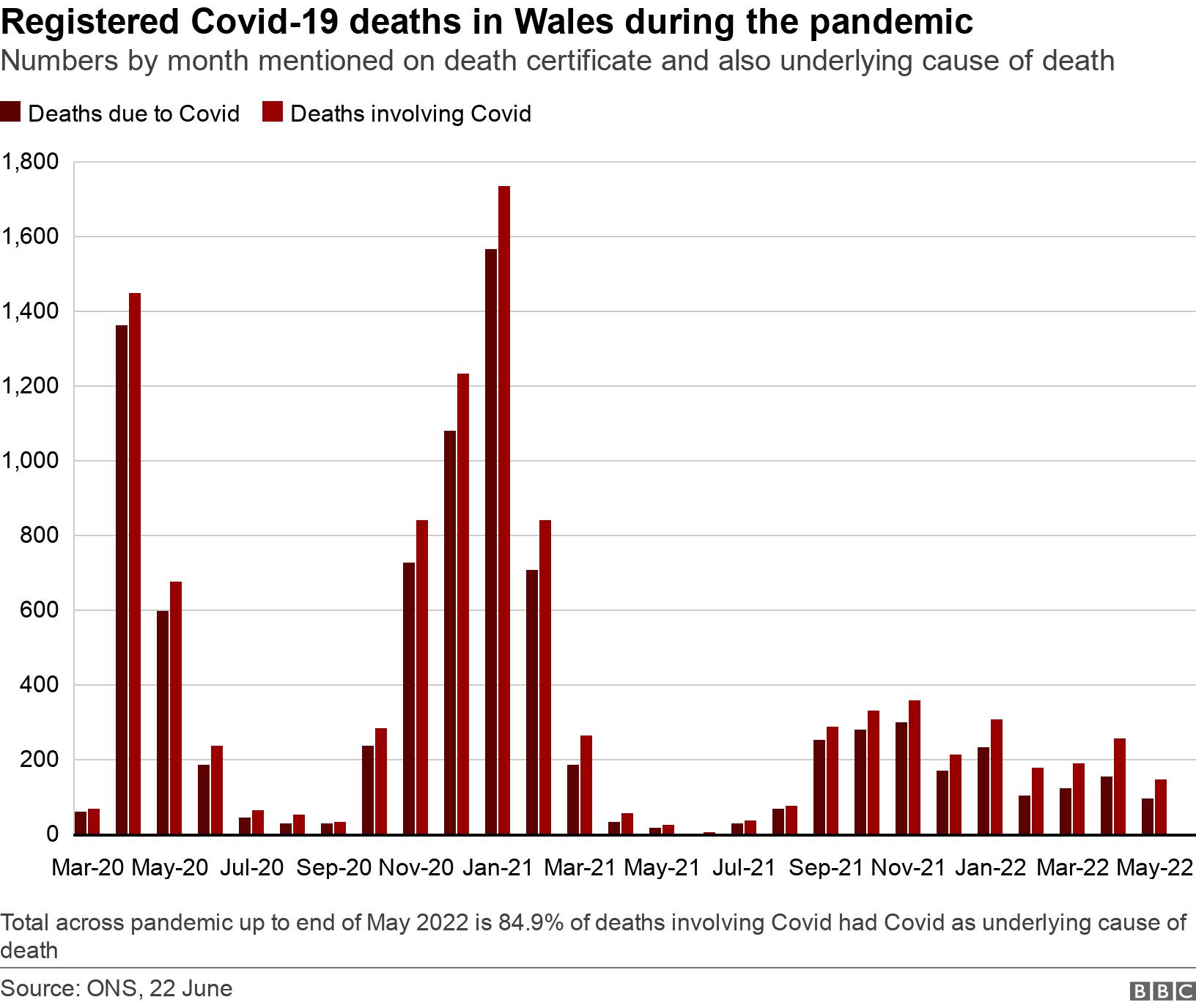 Are deaths really 'due to' Covid-19?
The ONS also looks at how deaths are registered on certificates and found since the pandemic began, Covid was the underlying cause of death – not just a contributory factor – in 65% of Covid deaths mentioned by doctors on death certificate in Wales in May.
It has been as high as 94% and on average since the start of the pandemic, 84.9% of deaths with Covid on death certificates can be said to be due to Covid.
In about 4.3% of these deaths, the doctor had written that Covid was "suspected".
A doctor's duties include certifying deaths, and this can include any cause in a chain of events leading up to them, including pre-existing conditions and whatever medically makes a contribution.
Which areas have been hit hardest?
Rhondda Cynon Taf (RCT) has the highest mortality rate over the course of the pandemic in Wales.
By 17 June, RCT had reached a total of 1,089 deaths and also had the seventh highest crude mortality rate (451.4 deaths per 100,000) of all local authorities across England and Wales.
Merthyr Tydfil (437.6 deaths per 100,000) was the 12th highest.
Cardiff has had the most deaths in Wales – 1,100 – up to 17 June.
Six of RCT's communities were also in the highest 20 within Wales during the first and second waves, when the death rates can be broken down further.
At a health board level, the age-standardised mortality rate for Cwm Taf Morgannwg, which covers RCT, Merthyr and Bridgend, was 175.1 deaths per 100,000 due to Covid in the pandemic up to the end of May 2022.
This is the highest in Wales, the lowest being 71 deaths due to Covid in the Powys health board area, set against a Welsh average of 114.3
The area with the highest number of deaths in the first two waves of the pandemic was Tonyrefail, with a total of 57 deaths due to Covid, followed by Sandfields in Port Talbot (52) and Porth East in Rhondda Cynon Taf (48 deaths), by the end of April 2021.
When translated into mortality rates, based on population size, Llanelli Bigyn is the highest, followed by Port Talbot East.
And there is one community remaining which has had no Covid deaths at all through the pandemic – Llandudno Junction South & Llansanffraid Glan Conwy.
In the second wave of the pandemic, Bridgend was the worst-hit area in Wales.
What are the differences between measures?
The ONS and public health bodies are measuring things in a different way – and information is available at different times so do not expect to see the same thing:
The ONS gives figures weekly based on all deaths registered involving Covid-19, according to what a doctor puts on the death certificate, whether in or out of hospital
The virus may not be the main cause of death, just a factor. There does not need to have been a positive test – it could be it was just suspected by the doctor.
In the vast majority of cases (around 96% in Wales), deaths involving Covid are backed up by a positive test. But doctors, using their medical expertise and assessment of symptoms, have also determined in a small minority that they suspect Covid was a factor but where a test wasn't possible.
Most of the deaths PHW reports are in hospitals – it receives information on a daily basis from health boards. But Powys has no general hospital and patients from there are treated over the border in England, so the deaths of 378 Powys residents are not fully reflected by PHW
It will only include deaths which were given a positive test for Covid-19 in a laboratory – not any suspected cases. This can also include deaths reported by health boards, which could be from several days ago
It can also include people who died of other conditions and just happened to test positive for Covid in the month before they died. ONS is more accurate at determining what people actually died of.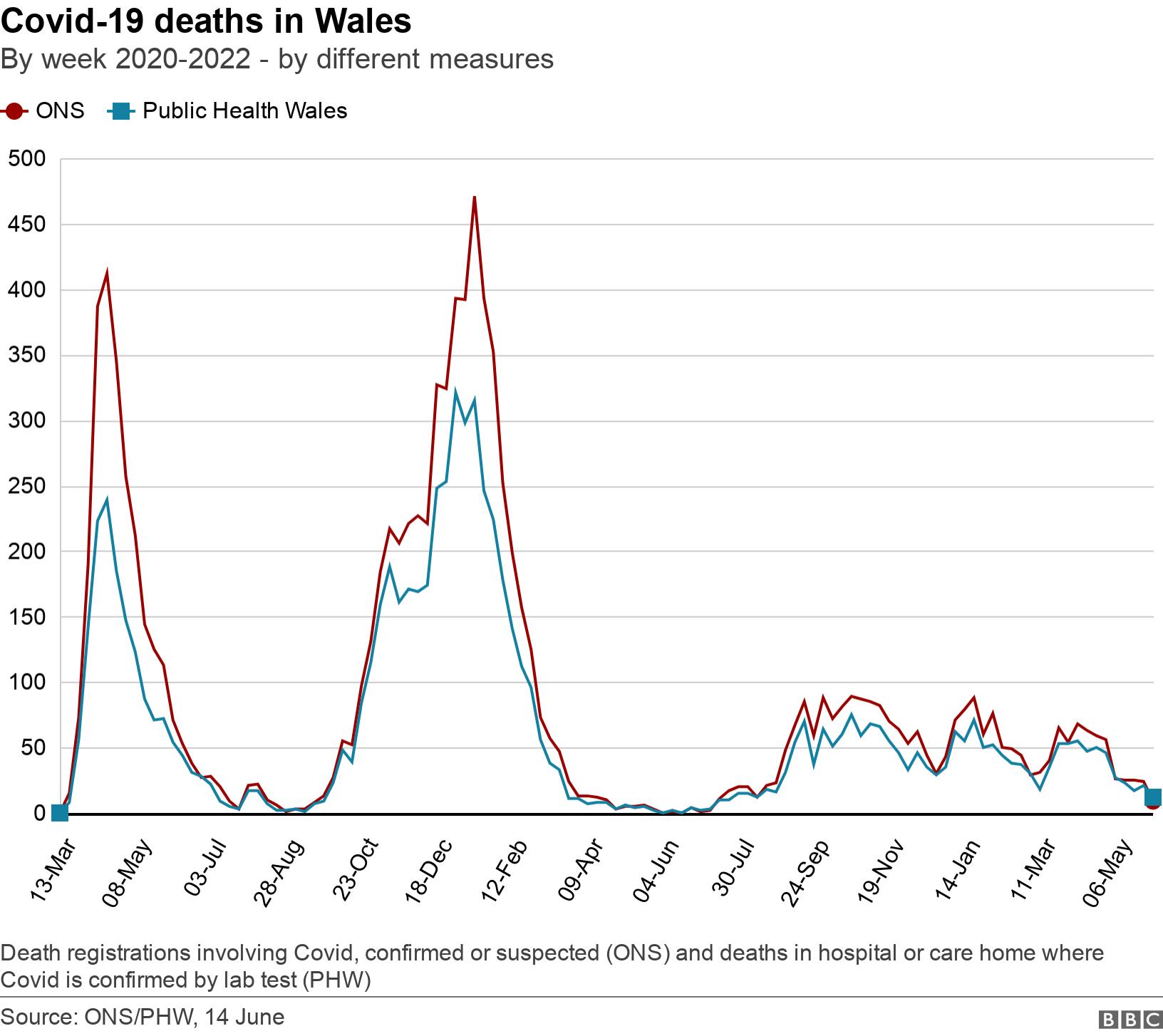 Can we compare the two sets of figures?
The graphic above shows how it looks when you compare figures from the different data sources – and how there is a difference between ONS and PHW. There is also a similar count used by the UK government, which takes the PHW statistics and involves people who died within 28 days of a first positive test for Covid.
There is a difference of about 2,850 deaths.
According to the PHW measure, on 23 June, there had been a total of 7,529 deaths with Covid, with only 12 deaths being reported in the most recent week.
PHW has now switched to only weekly reporting, from its previous daily figures.
We do not know how many of these people have died of Covid, only that they tested positive in the weeks before they died.
With the large number of "incidental" Covid cases in hospital during the Omicron wave, it is a less reliable measure to use day to day.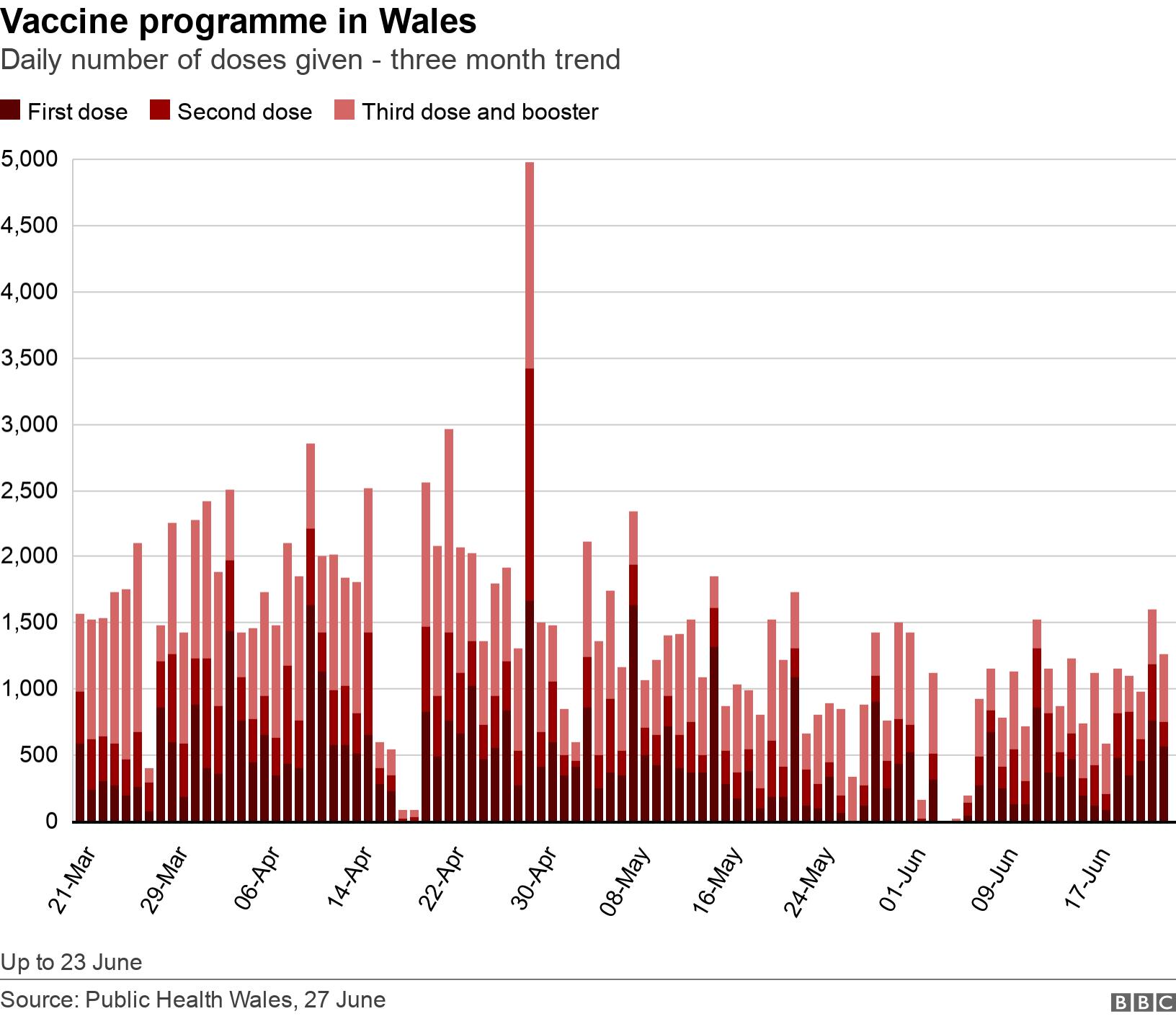 More than two million people have now received booster jabs
More than 7.3 million doses of vaccine have been administered in Wales, with the programme winding down.
That includes more than two million boosters – or 85% of those eligible by 23 June.
Around 59% of the 19,167 vaccines distributed in the past week were Spring boosters, with the rest a mix of first, second and third/booster doses.
The one million booster milestone was passed on 6 December and before Christmas, the daily average for jabs was 42,500.
At the peak of the vaccine programme in March, between 38,000 and 40,000 daily vaccines were given out.
Public Health Wales is now only reporting vaccination figures weekly, with 7,354,833 doses given out so far across the whole programme.
That includes 309,842 people who have received Spring booster jabs.
What about variants?
The dominant variant in Wales has been Omicron since December, and 347 new cases have been sequenced in the last week.
Because of the ending of mass testing in April, we should not expect to see the same numbers of results going off for sequencing any more.
So far, 28,793 cases of a sub-variant of Omicron, BA.2, have been found in Wales and the proportion has grown over the last three months.
It has overtaken the "original" Omicron in all areas of Wales.
Infection estimates by ONS suggest it overtook the BA.1 strain in early March, while the following BA.4 and BA.4 strains overtook BA.2 in the second week of June in Wales.
Public Health Wales said data suggested there was no change in vaccine effectiveness against it.
"Evidence from European countries with significant numbers of BA.2 cases suggests that this variant is no more severe than BA.1," said a spokesman.
Due to difficulties in distinguishing between sub-variants of Omicron, a large number of cases were de-classified earlier in February week and there are also cases with not enough information to classify at the moment.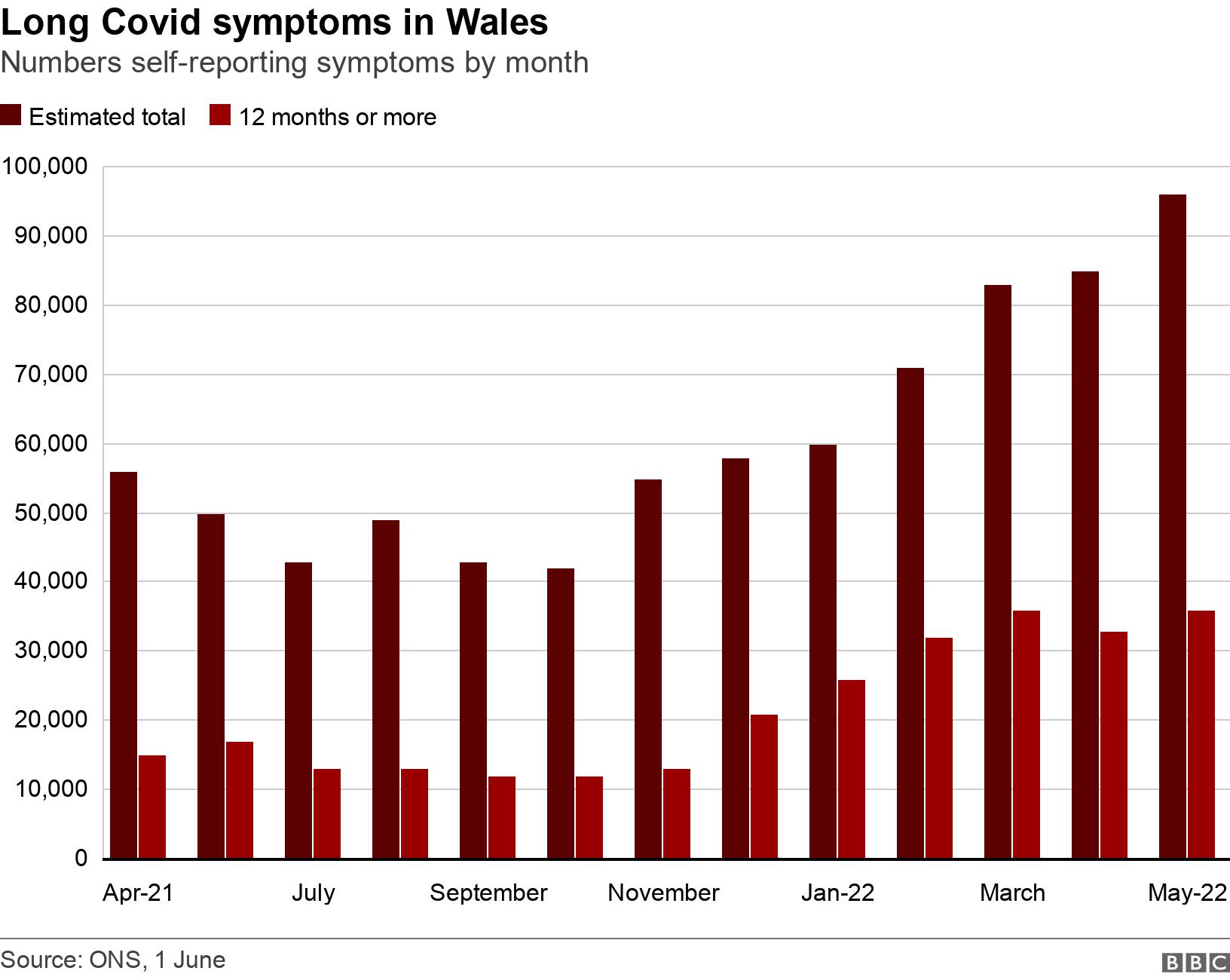 Rise in people reporting long Covid
We can also see more people reporting symptoms of "long Covid" – 96,000 – around 3.16% – estimated in Wales to be experiencing the long-term effect of having the virus.
This is the highest number reported since figures were collated by ONS.
In the latest figures, 36,000 people in Wales were still reporting symptoms more than a year since having Covid.
GPs meanwhile had seen 2,431 patients in Wales as part of the Adferiad long Covid recovering programme, with about 27% of them having been in hospital.
What case rates told us about Covid in Wales
With the end of mass testing at the end of March, there is no longer a reliable case rate based on PCR test results
Up to 1 April, there were 827,225 positive cases across Wales, but this only measures people who were tested. It does not include many people not offered a test in the first wave, those who chose not to be tested, as well as thousands testing positive with lateral flow tests over the last three months
Over the course of the mass testing period in the pandemic, Merthyr Tydfil had the highest cases per 100,000 of Wales' local authorities.
When we look at infections in communities, broken down into middle-layer super output areas, with populations averaging 5,000, there has generally a split between rural and more urban areas.
This is still noticeable when we look at a map of community case rates for the whole pandemic, taking into account population sizes.
When we look at infections in communities, broken down into middle-layer super output areas, with populations averaging 5,000, there has generally a split between rural and more urban areas.
This is still noticeable when we look at a map of community case rates for the whole pandemic, taking into account population sizes.
Pontardawe in Neath Port Talbot – of similar-sized smaller communities – had the highest number of positive Covid tests, 3,796
Tonypandy West and Clydach Vale in Rhondda Cynon Taf had the highest case rate of these smaller communities
The lowest case rate was in Cilgerran and Crymych in Pembrokeshire
Abersoch in Gwynedd is the community with the smallest number of positive tests, 839.
The Wales positivity rate, which had been rising, has fallen back to 9.4% but this is following the end of mass testing.
At the peak of the Omicron wave at the end of 2021, the positivity rate reached 51.6%.
Locally, Neath Port Talbot over the course of the whole pandemic had the highest positivity rate (18.8%) and Ceredigion the lowest.
Earlier in the pandemic, a 5% positivity threshold was suggested by the World Health Organisation as an indicator that infections were too high.
A younger profile for much of the third wave
There was a much younger profile to cases in the third wave in the latter half of 2021.
Between January and March there was a rise in proportions of those aged 20 to 40 testing positive.
In terms of PCR tests, the 20 to 40 age group made up more than 41% of positive results this winter.
In the most recent week, the 40 to 59 year age group still had the highest incidence for lateral flow test positives.
All of Wales' 22 council areas saw falls in their under-25 case rates in the last week of figures, which included the period when mass testing ended.
The 30 to 39 age group had the largest proportion of cases in the last, most reliable week for PCR tests.
Over the winter months, the under-19 age group has made up 20% of cases, a rise on the year before.
Wales passed peak of Omicron earlier than expected
Modelling, published on 7 January, suggested a rise over the following two weeks, with the situation unlikely to ease.
But a fall in cases led First Minister Mark Drakeford, a week later, to say there were "positive signs that the peak may have passed" although he urged caution over what was a "fast-moving and volatile variant".
By 21 January, after a sharp drop, he could say "confidently" that Wales had passed the peak of the Omicron wave and the "incredibly high levels of infections we have seen across Wales".
The peak was reached on 2 January and the chief medical officer for Wales said both the booster vaccination programme and the less severe nature of Omicron meant "much lower direct harms than were predicted in the modelling and witnessed in previous waves."
The case level is slightly above but roughly around the range of the original modelling indicator. Updated modelling has since been published.
The Welsh government said it planned to extend modelling to cover other winter viruses, as well as indirect health harms from hospital treatment "displaced" during the pandemic.
What do the figures on testing tell us?
More than 8.7 million Covid-19 tests have been carried out during the pandemic, with the first positive result recorded in Swansea on 27 February 2020.
For most of the first wave, testing was confined to hospitals and some care homes but mass testing became available in the spring of 2020.
This ended at the start of April 2022, although it will remain in place for hospital patients and there will be some for vulnerable people and those with symptoms in care homes.
Testing that's processed privately – at so-called Lighthouse labs – is no longer taking place.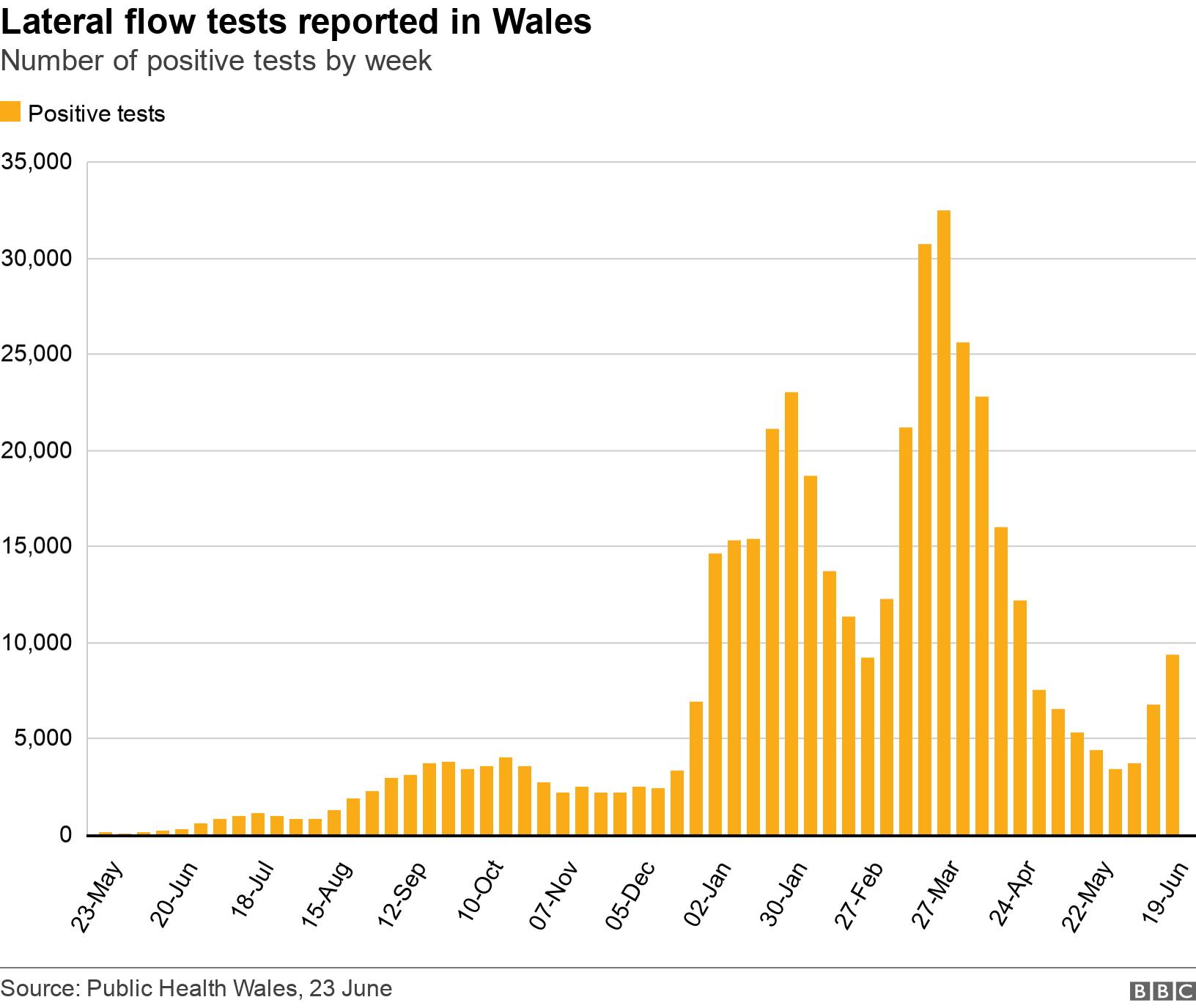 Since the summer of 2021, and with the easing of restrictions, more lateral flow tests (LFTs) of asymptomatic people have been undertaken, which saw more positive tests eventually feeding into the system.
People with symptoms are now asked to take LFTs although the number reporting tests had been falling.
The most recent weeks however have seen a rise again with 54,286 LFTs reported, with 9,406 positive, more than in the previous week.
Up to the end of routine testing in April 2022, about 17,000 tests routinely took place in hospitals each week and up to 30,000 weekly in care homes.
There have also now been changes to guidance for Covid testing in hospitals, although patients will still be tested before admission or ahead of surgery or chemotherapy.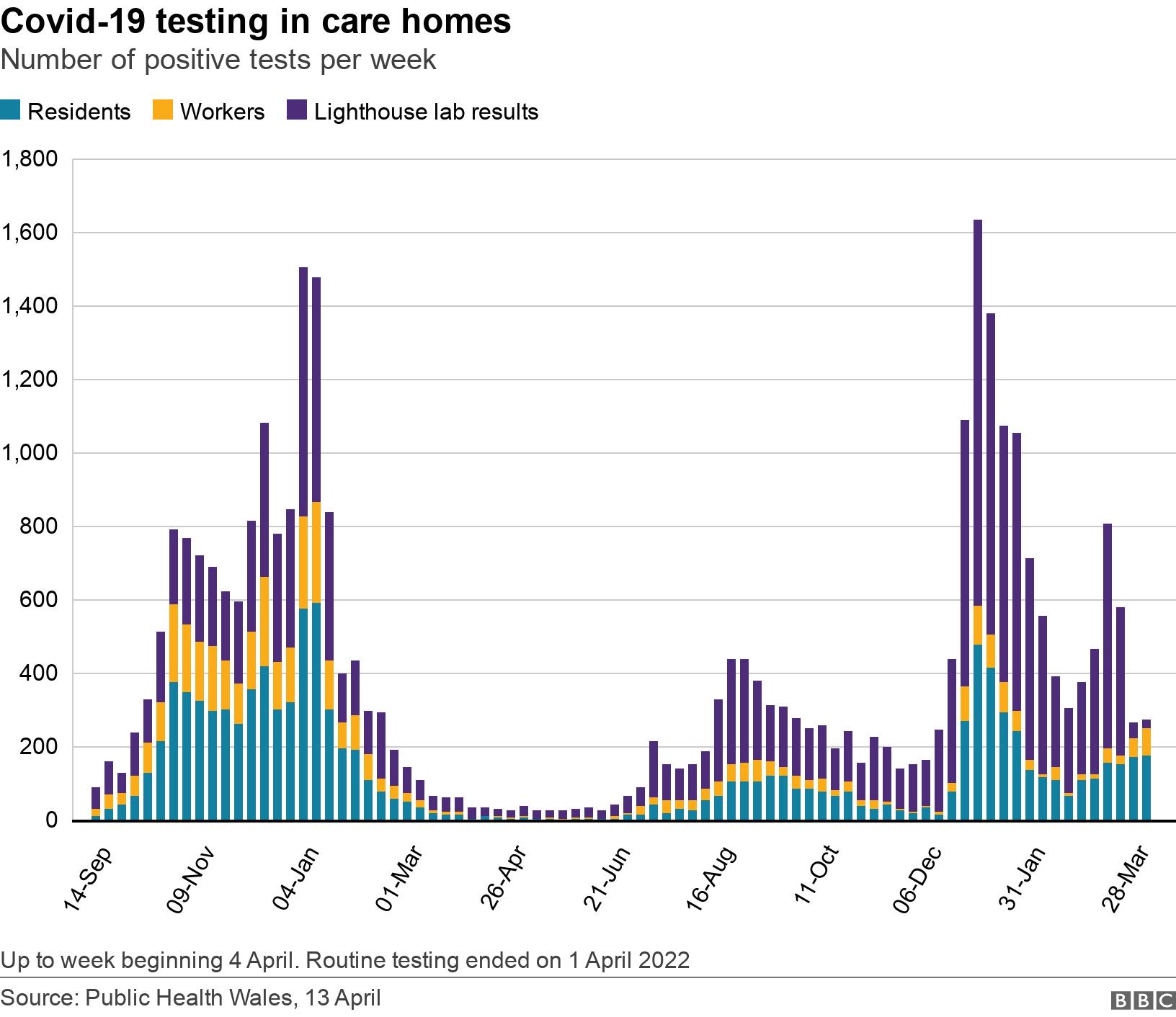 Altogether, around 32,500 positive tests were recorded in care homes over the course of the programme from autumn 2020.
Care home staff no longer need to take a weekly PCR test, while free lateral flow tests will be provided for staff and visitors under guidance until June.
Residents or staff showing symptoms will be given PCR tests by their local health board and homes will have to notify Public Health Wales and Care Inspectorate Wales. Residents will get results back within 24 hours.
Care Inspectorate Wales figures also show 74 care homes in Wales have notified one or more confirmed cases of Covid in the last week – a rise on the previous week.
How much has Covid cost?
In the financial year ending in March 2021, the first year of the pandemic, spending on infectious diseases in the NHS in Wales jumped by £373 million.
That worked out at £156 per person in Wales, or just under 6% of all NHS Wales spending.
The costing of treating patients with Covid and managing the virus was put at £628m. Spending also included field hospitals and operating the track and trace system.